Our Approach

Process automation tools are expanding the range of administrative tasks that can be processed by hardware and desktop robots, reducing costs and freeing up skilled staff for higher value-added tasks across frontline operations, finance, sales, HR and other support function.
Digitalization of paper intensive processes could be a starting point. This not only opens the door to Robotic Process Automation (RPA), it can also lead to opportunities such as outsourcing or shared service centers.We believe in following a multi-step automation strategy that starts with concepts and strategic opportunities, then moves through to vendor selection, pilot projects, and full deployment. This allows an organization the time to adjust to a technology that can have a profound impact on the workforce.
We also provide help the organizations and affected stakeholders with the change acceleration process that is so critical to ensure process automation succeed.
**********Section break************
Our Services
Technology Feasibility Study: This engagement involves assessing processes, conducting scientific time motion study, analysing data, facilitating workshops and computing ROI to build a prioritised pipeline for process automation. This clarifies senior leadership team and board members doubts with regard to "Have we optimised our processes and assets yet?", "what could be improved before investing in capital projects". Based on your requirements and our extensive knowledge and market overview, we can advise you on selecting the right technologies.
Proof of Concept (POC) : This is the first step in starting your Automation and Digitalisation journey. POC involves analysis, design and implementation of selected processes to demonstrate technology capabilities in your operations. This provides an opportunity to assess vendor's promises and robots in your organisation and verify that they deliver to your business needs and expectations.
Full implementation: End-to-end delivery of automation in your organisation includes analysis and optimisation of processes, managing the technology partners, preparation of procedures for robots, development and testing of automation scripts and deployment to the live environment. This including the setup and testing business continuity processes should there be any technology issues.
Establish of Centre of Excellence (CoE): We can help you to build an Automation and Digitalization CoE within your organisation to ensure you are maximising the value delivered from Technology. This involves setting up the methodology, organisation, processes, roles and technologies to be used within the CoE, implementing the CoE and assuring quality of its delivery.
KWONG WA SHUI HOSPITAL'S AMR ROBOT IN ACTION
GOSAFEHOME.ME (WINNER OF IAL 2020 INNOV PLUS FLAME AWARD)
GOSAFEHOME.ME – WINNER OF IAL 2020 INNOV PLUS FLAME AWARD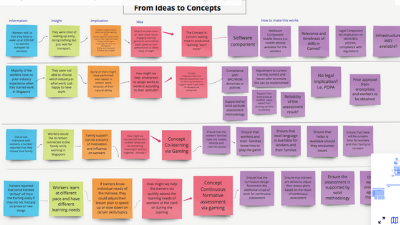 GAMIFICATION IN WORKPLACE SAFETY
LEADING AUTOMATION AND DIGITALISATION ROADMAP